Salamanca, Spain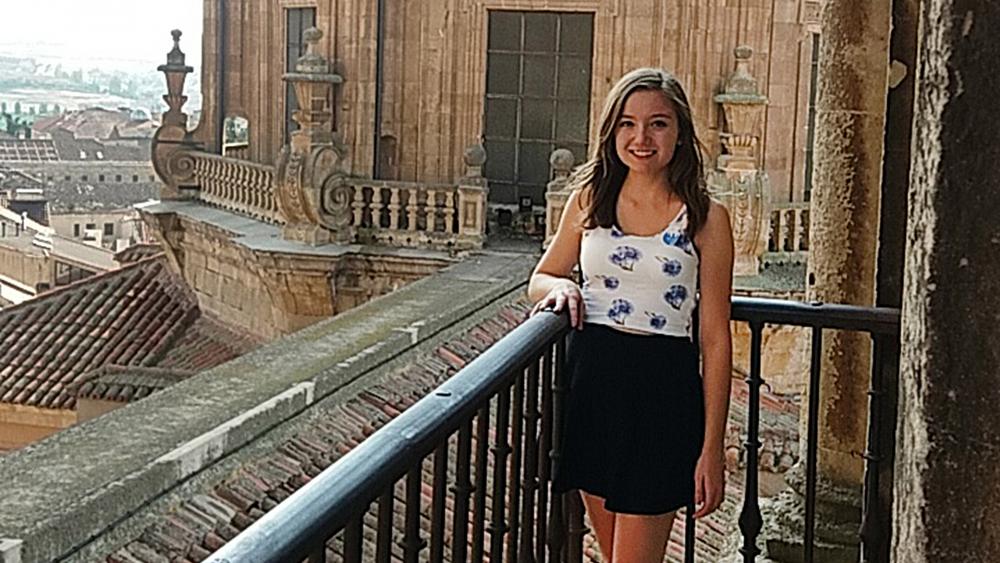 AIFS: Salamanca, Spain
Next Offered: This program is typically offered every fall and spring semester
Application Deadlines: Spring travelers : September 15; Fall travelers: March 14
While students are able to apply for future semesters abroad, Dominican will make a decision on whether travel is possible, after the application deadline and before any payments are made.
Situated in the northwest corner of Castille, Salamanca is noted for its Medieval, Renaissance and Baroque architecture, as well as its lively student atmosphere. The University of Salamanca, oldest in Spain, was founded in 1218 and draws students and visitors from around the world. Dominican University has been welcomed into this area rich in traditions of the Dominican Order. Town and student life centers around the Plaza Mayor, justly called the most beautiful in Spain. Offered through the American Institute for Foreign Study Abroad.
Academic Program
Salamanca students have the option to participate in a three credit two-week intensive orientation course: language and civilization. There are no additional fees for Dominican students who participate in the two-week early start program. DU Students pay the same DU tuition and fees, whether or not they participate in the early start. 
Courses
AIFS courses taught by professors from the University of Salamanca
University of Salamanca courses in all branches (for advanced students only)
Students wishing to enroll in courses offered at the PEI (University of Salamanca) must have written permission from the Spanish department. Such approval does not guarantee successful completion of these courses; the approval merely attests that the student has the requisite language skills and academic background to pursue coursework at the University of Salamanca.
Courses available in international business and economics, education, art, history, Spanish language and literature, political science and geography
All courses are to be taken in Spanish. International business (Spanish language track) and international relations and diplomacy (Spanish language) majors may take 2–3 courses in English. These courses must be pre-approved by the department. The remaining courses must be taken in Spanish and the language requirement (see below) applies to these students.
DU students can also earn literature, history, social science, and fine arts area requirements (pdf) in Salamanca. Students should talk to their advisor about their plans to study abroad, and consider reserving area studies courses for their semester abroad.
Currently enrolled students may not opt for the satisfactory/unsatisfactory option for any courses. Transcript issued by AIFS.
Application 
Students must first complete the online application above. All applications are reviewed by Spanish faculty and Study Abroad. Once approved to apply, students then complete another application with AIFS. We recommend that all applicants complete their applications early. This is especially important for those who'd like assistance obtaining their visas or need special accommodations.
Cost and Financial Aid
Estimated Costs
Semester programs cost the same as Dominican University tuition and fees, plus a $1000 Study Abroad fee.
Salamanca charges include 12–18 credits (which includes the optional two-week early start program), housing in a home stay, all meals, excursions (if allowed), and international medical insurance. Flights and accommodations during spring break are not included. Students can purchase their own flights ($500–$2600) or select a flight package with AIFS.
A non-refundable application fee $95 is paid directly to AIFS
Upon acceptance, students will pay a $750 non-refundable deposit to Dominican University
Optional single room and additional group excursions are available. Students will pay these fees directly to AIFS.
Students should plan to spend $200 to $300/month (estimated) on personal expenses. Students planning to have independent travel throughout Spain or Europe should consider these costs as well.
Scholarships and Financial Aid
100% of your state aid, federal aid, and Dominican scholarships and grants are applicable to a semester abroad, however, the Resident Student Grant does not apply to a semester abroad. Students who received 3rd party external scholarships should consult financial aid on whether or not they apply to a semester abroad.
Additional loans or the Parent Plus Loan are available to students through the Office of Financial Aid.
All students should apply to scholarships they are eligible for. If the combined value of Dominican aid and external scholarships exceed the cost of attendance, DU Aid will be adjusted.
All students should apply to Dominican University's Excellence in Experiential Learning Awards (ExcEL) to earn up to $2000 off the cost of the program
Pell Grant recipients should apply for the Gilman Scholarship 
All students should apply for Fund for Education Abroad Scholarships
AIFS scholarships for qualified students
Requirements and Eligibility
Open only to currently enrolled Dominican University students
2.7 Dominican University GPA
Second-language learners must complete two semesters of Spanish at the intermediate level or above (one of which is SP 245 Intro to Spain), and have approval of the Spanish discipline chair
Native and heritage speakers of Spanish who place into SP 231 or higher must complete only one semester of Spanish, preferably SP 245 Intro to Spain
Native and heritage speakers of Spanish who place below SP 231 must fulfill the same requirements as second-language learners (see above)
Junior/senior standing; exceptions for second semester sophomores but be approved by advisors and the Spanish discipline chair
Students must attend at least one information session and one orientation session
Excursions, Housing and Transportation
Immersion and Excursions (if allowed)
Three days in Lisbon, Portugal
Field trip to Segovia
Day trip to Toro and Zamora wine region
Opportunity to travel in a group on four day trips to Andalucía-Seville, Granada and Córdoba, and to Marrakech, Morocco for additional fees
Conversation exchanges with Spanish students
Volunteer work in the community
Extracurricular university activities, such as sports, chorus, theater, dance
Housing
Home stays with selected Spanish host families, double occupancy, meals included
Vacation periods not included
Transportation
Students can arrange their own flights, or purchase the flight package through AIFS.
The AIFS flight package includes a two-day trip to London before the program begins. Students will then take a group flight to Spain, and transfer by bus to Salamanca