French and Francophone Studies
This major prepares you to write and speak in one of the most widely used languages in business, law, education, government, international outreach and diplomacy, and more. You'll also explore the Francophone cultures of Europe, Africa, the Caribbean and beyond.
Your gateway to top careers
From global corporations and government agencies to humanitarian organizations and educational institutions, the demand is great in every sector for workers skilled in languages and cultural competency. As a French and Francophone Studies major at Dominican, you will establish a foundation for rewarding careers in business, law, education, communications, government, aid and development, and beyond. Students seeking to teach French can complete our streamlined French and Francophone Studies major alongside our secondary and K-12 education major. The French and Francophone Studies major is also great preparation for graduate studies.
A modern, experiential curriculum
You'll be immersed in French and Francophone Studies from day one. Your gateway courses will engage you through multimedia including interactive apps, film, ads, virtual tourism, podcasts and newscasts. You'll progress to role play, team debates and improvisation. Literature courses feature all genres, including theater, prose, poetry, song, and graphic novels by African, Caribbean, Québecois and French writers. You'll explore the politics, economics, history and culture of the French-speaking world in all its diversity. Students pursuing careers in business can take professional French and Francophone Studies courses that offer mock job searches, Q&A sessions with Francophone business professionals and marketing projects for French brands.
Experience more of the world
Gain a highly marketable international perspective. Choose from short- and long-term study abroad programs on four continents. Here's a sample:
Paris: Fashion students can study at the Paris American Academy, a bilingual, multidisciplinary design school in the city's Latin Quarter. You'll find opportunity and inspiration in the home of unrivaled fashion houses such as Chanel and Louis Vuitton.
Paris: Students from any discipline can discover Paris on this short-term study abroad experience over the winter interim. You'll explore aspects of the city's history through literature.
Strasbourg: Business students will learn about business practices, history and the economy of the European Union. You'll even sit in on sessions of the European Parliament.
Fanjeaux: Explore the hilltop town in southern France where St. Dominic's vision of a religious community devoted to seeking and sharing truth took shape in the 13th century.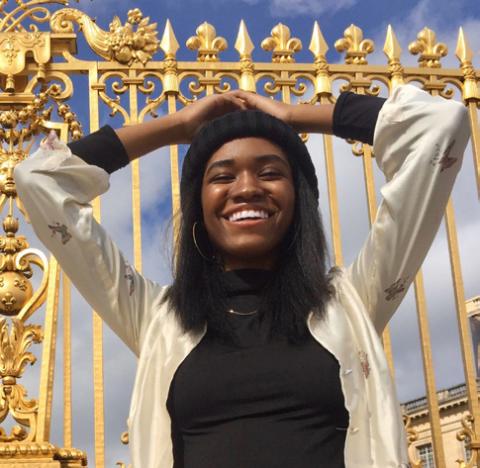 Stephanie Frost
French and Fashion Merchandising graduate
"The French program at Dominican furthered my education in ways I never thought possible. I developed skills I could use in other classes. And while studying in Paris, I navigated the city and French society with confidence."
More ways to learn—on campus and beyond
Experiential learning is built into every course, and you'll interact with native French speakers from the start. Beyond campus, we'll connect you with networking and internship opportunities through our partnerships with the French-American Chamber of Commerce-Chicago, the Teaching Assistant Program in France (TAPIF) and others. You'll find service opportunities through groups like Communauté Catholique Francophone de Chicago. And we offer lifechanging study abroad programs—including year-long, semester and short-term options—on four continents.
Double your competitiveness in the job market
Our curriculum is designed to make it easy for you to combine your French and Francophone Studies with a second major in another discipline—combinations that will make you an even stronger candidate for jobs and top graduate programs. French and Francophone Studies is a natural fit with majors such as international business, international relations and diplomacy, and our translation and interpretation studies minor. Students in our fashion design and merchandising programs also benefit from our French and Francophone Studies major—and semester abroad program at the Paris American Academy. You'll find opportunity and inspiration among the fashion houses of Paris.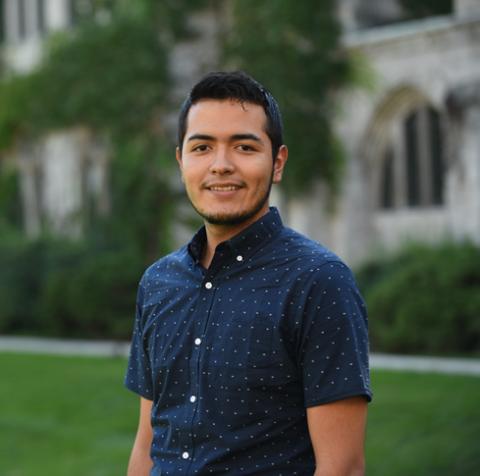 Phaulo Escalante
French and Computer Science Student
"The opportunities at Dominican are really amazing. I got to complete an internship at Argonne National Laboratory. I am the first in my family to attend college and I want to be a role model for my younger brothers."