Entrepreneurship
Prepare to join one of the most exciting and important parts of the global economy. Our powerful, values-based curriculum will enable you to join the ranks of entrepreneurs who are transforming the face of business in the U.S. and beyond.
This is not business as usual
In small classes, you'll work side-by-side with an outstanding faculty that includes Fulbright scholars, published authors and top-level corporate leaders. You'll prepare for leadership in a part of the economy that creates jobs, enhances productivity, encourages innovation and enables social mobility. You'll learn by doing in the real world—analyzing the ways consumers and employees think and act, building traditional and digital marketing plans, and making smart, strategic decisions about product development, placement, positioning and much more. In a curriculum deeply rooted in the liberal arts, you'll learn about leadership, persuasion, and the subtle art of communicating across organizations and cultures. This innovative, high-impact major will prepare you to build the businesses of tomorrow in a dynamic global economy.
More ways to learn, on campus and beyond
Extensive practical experience is built into the entrepreneurship curriculum. Our practicums and internships draw on Chicago's incredible wealth of businesses, both new and established. We make our connections your connections—so you can test drive your ideas in the real world. You will dive deep into the ethical and legal implications of starting and managing a business. To gain a global perspective on the business world, you can choose from semester or short-term study abroad programs on four continents. You may even qualify for our first-rate Accelerated MBA program—a pathway to a completed MBA in just one additional year of study.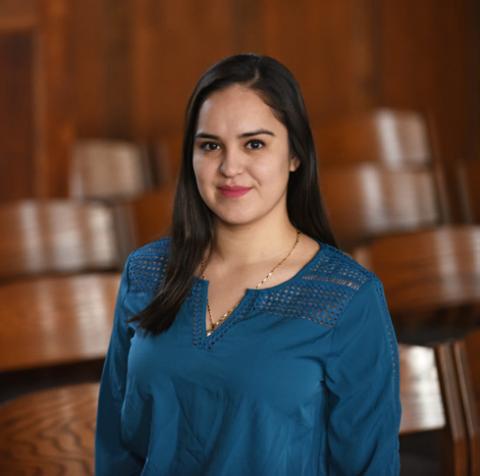 Elsa Rosales
Brennan Graduate
Mortgage Sales Partner, Fifth Third Bank
"Dominican really gave me opportunities to learn and get involved in the classroom and beyond, through a great internship and many amazing professional opportunities. I put my skills to the test and even built a career network. The whole experience made me want to stay and earn my MBA at the Brennan School."
Prepare for a life of purpose, creativity and impact
From your first to your last day on campus—and even after you graduate—you'll have access to academic and career advising that's personalized to your professional goals. Our Career Development Program will guide you through the subtleties of interviewing, networking and much more. Our Executives-in-Residence Program will introduce you to business leaders who will provide you with one-on-one career mentorship. The curriculum itself will prepare you for lifelong intellectual and professional competence. As a Brennan graduate, you'll be proficient with new technologies, comfortable taking well-considered risks, and able to adapt and thrive through a long, meaningful and productive life as an entrepreneur.
Join a relationship-centered learning community
No one is lost in the crowd at Dominican. Our student-faculty ratio is 10 to 1. The average class has 16 students. This enables Brennan's faculty to engage each student as an individual with particular gifts and goals. You'll prepare for entrepreneurial leadership alongside a group of committed students that reflects the growing diversity of today's business world. The Dominican model of community is based on a recognition of the profound value and unique potential of each person. We think of business as a powerful tool for social change. We challenge one another to find our true voices and become our best selves.
Matthias Witteman
Brennan Graduate
Associated Product Manager, Chervon North America
"I transferred to Dominican as a junior and I always felt welcome. You can find a friend at any time within an arm's reach. I grew so  much during my time here. Dominican gave me terrific opportunities that enabled me to land a great job as a brand manager at a highly entrepreneurial firm eight months before graduation."