American Studies
American studies looks at our society—and its place in the world—from multiple angles, including history, literature, economics, film, sports and popular culture. You'll even explore academic subjects just beginning to emerge in an incredibly dynamic nation. You'll also sharpen your analytic and communication skills and prepare for success in a remarkable range of rewarding professions.
Explore the vast, colorful canvas of the USA
American studies is one of the most flexible majors offered at Dominican. Providing a truly liberal arts and sciences experience, the major offers students the opportunity to take courses from multiple disciplines and focus on specific themes in American studies including the urban experience, the African-American experience or popular culture. You'll think deeply and critically about the American experience. You'll learn to communicate effectively and to use primary sources to make evidence-based judgments and arguments. This major will prepare you for graduate study and for meaningful work in many occupations, including teaching, journalism, government service, social work, information management and the law.
As freshmen, students are required to take Introduction to American Studies. In their senior year, students are required to take a 400-level capstone course, that includes project-oriented research. Projects will be considered for the school's annual URSCI Expo (Undergraduate Research, Scholarship and Creative Investigations) held in April.
More ways to learn—on campus and beyond
You'll choose American studies elective courses from 13 different academic departments. You can expand your career options with a minor or second major in subjects such as digital journalism, communication studies and political science. Practical experience is built into the curriculum. Our internships draw on Chicago's vast cultural, communications and government resources. You can combine academic study with compassionate service to people in need, or complete your own, hands-on research project in close collaboration with faculty (and often with university funding). To gain a fresh perspective on American society, you can choose from among study-abroad programs on four continents.
Briana Love
American Studies Graduate
"The entire university community supported me fully throughout my academic journey. My Dominican experience gave me the confidence to succeed in graduate school and beyond."
Prepare for a life of meaning and achievement
A survey of U.S. employers by Hart Research Associates found that 93% of bosses say that "a job candidate's demonstrated capacity to think critically, communicate clearly and solve complex problems" is the most important factor in hiring decisions. That is the essential skill set of our American studies graduates. Our curriculum is designed to prepare you for lifelong intellectual and professional competence. In the workplace, our graduates know what they're doing. They're thoughtful, informed, open to new ideas, and able to adapt and thrive through long and satisfying careers. They have earned their way into leadership positions in the professions of their choice.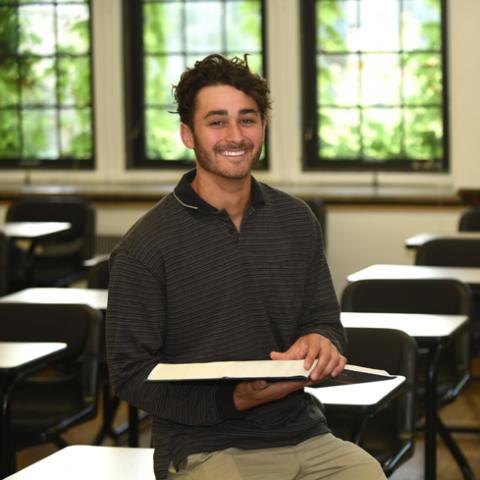 Adam Janusz '17
American Studies and Elementary Education Graduate
2017 Recipient of the Mulroy Award for Outstanding Student
"I chose Dominican because it's built a real culture of success in academics. The professors inspired me to rewrite my life story. They are the reason I became a teacher."